When you use Teyvat Central Banking Systems for the first time, you'll be asked to accept the minimum permissions: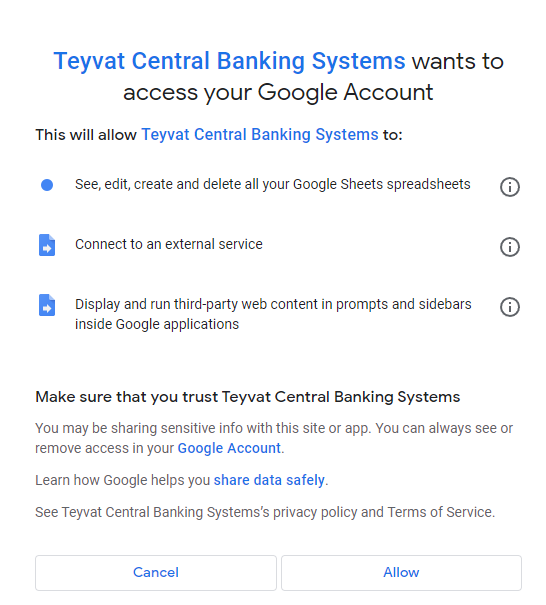 ---
| Required permission | Reason |
| --- | --- |
|  |  |
| See, edit, create and delete all your Google Sheets spreadsheets | Essential permission to amend your sheet with the tools available in this script. Such as sorting your adding your logs, and getting new contents from source. |
| Connect to an external service | To be able to extract your data from miHoYo using Auto Import, the script will help communicate to miHoYo to extract the data on your behalf. |
| Display and run third-party web content in prompts and sidebars inside Google applications | Create the 'TCBS' toolbar during the loading of the script, providing essential functions. |

---
Why does Teyvat Central Banking Systems need those permissions?
To be able to provide the features necessary to manage your document, these minimum-required permissions are essential for it to operate effectively.
Who can see the data of my spreadsheet?
The script will not expose any data to anyone without your permission, the only communication it can do is to miHoYo for 'Auto Import' and retrieving new Teyvat Central Banking Systems contents from the source document.
Can I review or revoke those permissions?
Of cause, if you need to review the permissions you have granted to Teyvat Central Banking Systems, you can go to Google Account ➤ Third-party apps with account access ➤ Manage third-party access. Where you are able to amend or revoke the permissions.