When using Warp Tally for the first time, you'll be prompted by Google to accept the following permissions before you are able to use any of the features on the sheet: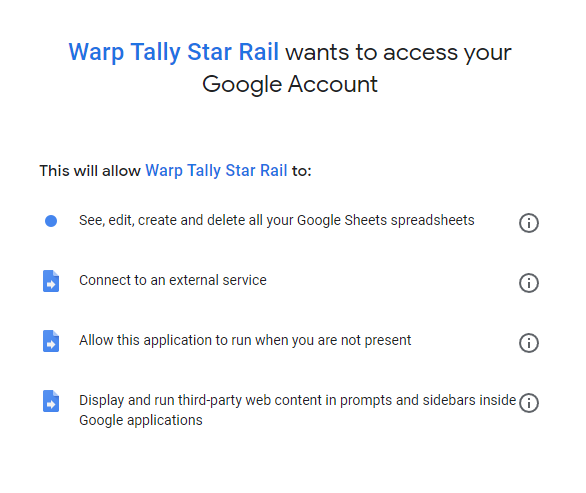 | Required permission | Reason |
| --- | --- |
| | |
| See, edit, create and delete all your Google Sheets spreadsheets | To manage your own sheet more easily with the tools available in this script e.g. sorting wish history, update sheet with new contents from source, track and set goals for building characters. |
| Connect to an external service | To enable the 'Auto Import' function to extract your data from miHoYo for you. The script will only use the URL from miHoYo to extract the data required for the purpose of the sheet. Any other data such as an individual's personal details are not shared elsewhere. |
| Allow this application to run when you are not present | Allows functions such as 'Update Items' and 'Sort Range' to be run on a timed schedule that you set for yourself. A great tool when you don't need to keep reminding yourself to update the sheet or for when you are not using the sheet for a certain period of time. |
| Display and run third-party web content in prompts and sidebars inside Google applications | Create the 'Warp Tally' toolbar during the loading of the script. This will provide all the essential functions of the sheet in one place. |
---
Why does Warp Tally need those permissions?
In order to get the best experience when using Warp Tally, it is highly recommended to allow these permissions as they give you the flexibility to manage your own sheet more easily and efficiently. Without these features enabled, whilst it is still useable you will be very limited on what you can do with the sheet and will find certain tasks more time consuming to execute.
Who can see the data of my spreadsheet?
The data on your sheet will be accessible to you and only you. Enabling the use of these scripts will only extract data that is necessary for the purpose of the sheet. Any individual's personal details will not be exposed or shared elsewhere without your permission, and this sheet does not require such information for it to function anyway.
The only form of communication the script will do is when using miHoYo's URL for 'Auto Import' and retrieving new Warp Tally contents from the source document to keep the sheet up to date.
Can I review or revoke those permissions?
Of course! If you need to review the permissions you have granted to Warp Tally, you can go to the following settings:
Google Account ➤ Third-party apps with account access ➤ Manage third-party access
From there you can amend or revoke the permissions whenever you want.
Google API Services User Data Policy
Warp Tally's use and transfer of information received from Google APIs to any other app will adhere to Google API Services User Data Policy, including the Limited Use requirements.